Attractions are the important product of tourism industry. Attractions are those elements, which determine the choice of the tourist to visit one destination rather than another. Of the four basic components of tourism, attraction is very important. Unless there are there, the tourist will not be motivated to go to a particular place. Similarly, for the trekking destination attraction plays vital role to attract trekker for trekking purpose. The attraction like mountain, forest, river, lake, glacier, flora and fauna etc may be important for the trekking destination. In the absence of attraction on trekking destination, no trekkers will visit in such route. So, attraction plays vital role to increase the trekkers in trekking destination.
Highest Trekking Peak in Nepal
Mera Peak is known as Trekking Peak. Nepal Mountaineering Association (NMA) classifies certain peaks between altitudes of 5000 meter to 7000 meter that can be climbed in a day as trekking peak. The total accent from base camp to the peak and the decent back to the base camp can be accomplished in a day.
Mera Peak is situated in Mahakulung Municipality -1, Solukhumbu District, Everest Region. Mera Peak is inside of Makalu Barun National Park and Hinku Valley. Mera Peak is the highest trekking peak in Nepal which stands at an altitude of 6,470 meter / 21,227 feet.
Best View Point of above 8000 Meter Mountains
Mera Peak is one of the best Himalayan panoramic view point in the world and popular peak climbing in Everest Region of Nepal. 8 of the 10 world highest mountains on earth including Mount Everest situated at Nepal. Mera Peak offers glorious breathtaking view of above 8000 meter five mountains such as Mount Everest (8,848m), Kanchenjunga (8586m), Lhotse (8516m), Makalu (8485m), Cho Oyo (8188m).
From top of Mera Peak, you will get to see five world highest mountains. From any other trekking peaks, you could not see like this view of more 8000 meter mountains. As well as Mera Peak provides stunning view of Baruntse, Chamlang, Nuptse, Pumo Ri, Gyachung Kang, Ngozumpa Kang, Shartse, Ama Dablam, Peak 41, Kangtega, Kyashar, Lobuche, Tutse, Hinku Chuli, etc.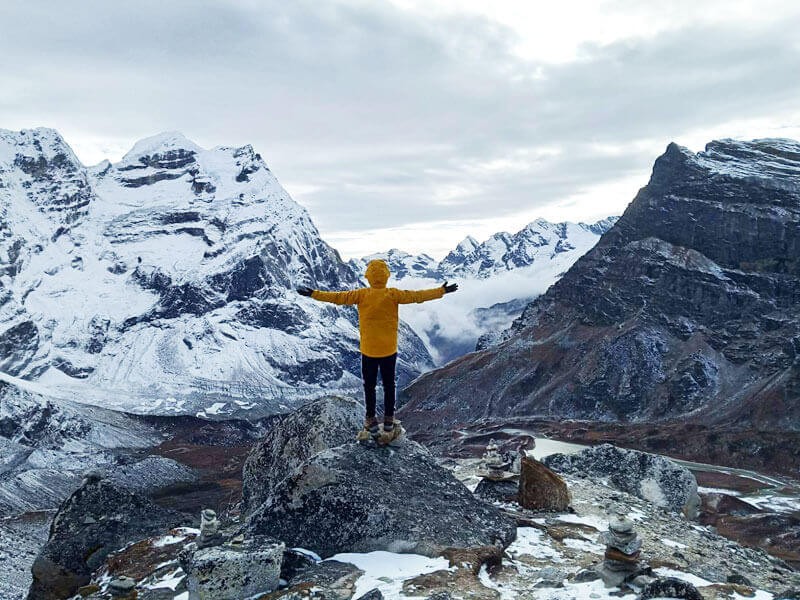 Easy to Climb Mera Peak
Peak Climbing is known as easy peak and easy to climb. Mera Peak is technically easy to climb hence, preferred by most climbers who inspire to climb Mount Everest. Mount Everest Climber summit Mera Peak as acclimatization and mountain experience before Everest Expedition. Mera Peak Climbing is little bit challenging due to its elevation. For Mera Peak Climbing it does not required previous climbing experience. But you need to have average physical and mental fitness.
Panch Pokhari and Tama Pokhari
Panch Pokhari means Five Lake which is one of the Local tourist destination and combination of five holy ponds. Thousands of local people visit in the day of Janai Purnima and Nag Panchami on August month. It is a religious place of Kirat, Rai and Tamang ethnic group. Panch Pokhari is located at Solukhumbu, between Cholem and Khola Kharka.
Tama Pokhari is a glacial Lake at Thangnak. Tama Pokhari is shown in map as Sabai Tsho. Tama Pokhari glacial Lake was outburst on 03 September 1998. According to Mr. Lhakpa Gylgen Sherpa "The flood started at 5:00 am and continued for 20 hours, people heard loud noise and saw a huge white cloud from the ice avalanche."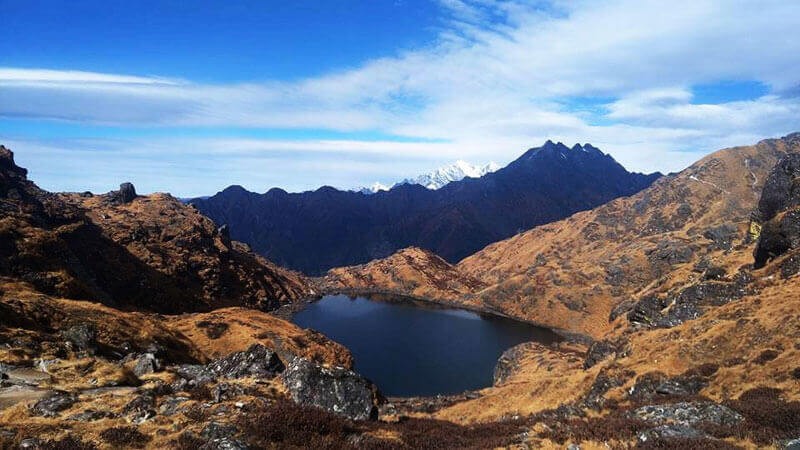 Makalu Barun National Park – Flora & Fauna
Makalu Barun National Park is a national park in the Himalayas of Nepal that was established in 1991 AD as eastern extension of Sagarmatha National Park. It covers an area of 1500 Square Kilometer in the Solukhumbu district. Makalu Barun National Park covers approximately 1500 meter to 5000 meter altitude from sea level. The protected area is habitat for a wide diversity of faunal species. The different species of mammals include Red Panda, Musk Deer, Snow Leopard, Clouded Leopard, Gray Wolf, Pangolin, Wild Boar, Barking Deer, Goral, Yellow Throated Martin, Jackal, Red Fox, Black Beer, Himalayan Tahr, etc. As well as 300 species of birds, verity of butterflies, reptile, amphibians, fish inhabit the many ponds, lakes, rivers, and forests are includes.
Khiraule Gompa, Thangnag Gompa and Pangom Gompa
Khiraule Gompa / Monastery is a Sherpa village. Name of monastery is Ngonga Thekchhok Chholing Monastery which is Estd on 1738. It is one of the oldest monasteries in Nepal and highly appreciated by visitors because of its mesmerizing and unique external design. The monastery surrounding by the tall pine trees which is rarely found in Nepal are believed to bring from Darzeeling more than 200 years ago by its patrons. Actually "Silent Meditation" started from this Monastery in eastern Nepal. Every month of "Dashami" (Tenth Day of the full moon day) is special day for villagers to pray and puja at Moanstery with gathering and offering foods for people. 1934 and 25 April 2015 earthquakes affect the certain parts of the monastery. This monastery is visited by student during their school tour and lots of local people and foreigners too. Similarly, you will reach at Thangnag Gompa during Mera Peak Circuit Trek which is named as Dukffuk Monastery.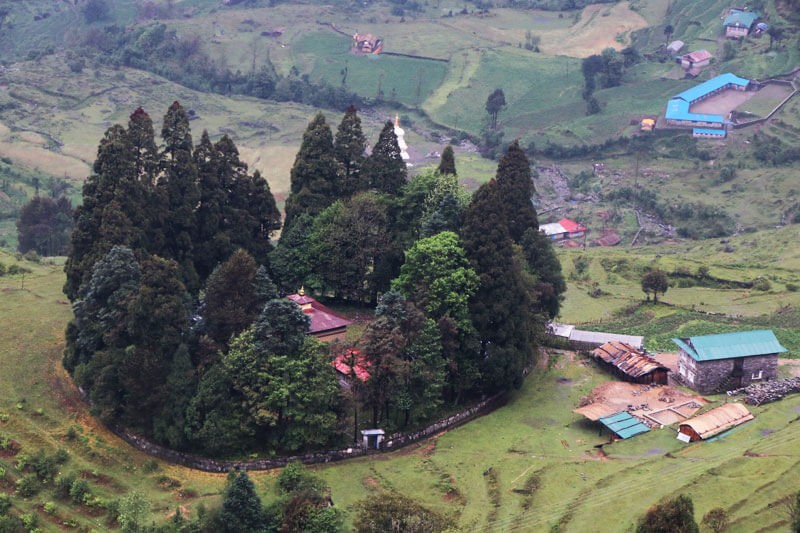 Cultural Society - People, Cast, language, Culture, Religion
"Culture is that complex whole which includes knowledge, belief, art, moral, low, custom, and any other capability and habits acquired by man as a member of society." EB Tylor.
Nepal is very diverse in its landscapes as in its population. Mera Peak Circuit follows a village of different ethnic group such as Chhetri, Tamang, Rai, and Sherpa. They have their own language / script, lifestyle, dress, ornaments, beliefs, dance, music, family system, race, food, drinks, tradition, house feature, etc. Mainly Sherpa's and Tamang community celebrates Losar festival in Buddhist religion and Kirat Rai community celebrates Chakchakur festival in Kirat religion as well as Chhetri community celebrates Dashain festival in Hindu religion. And they all celebrates Tihar festival (Deusi Bhaila).
They all lived in tiny villages of Lower Solukhumbu such as Sotang, Bung, Gudel, Chheskam, Khiraule, etc which is the part of Mera Peak Circuit Trek. The main thing is that these areas are the original community of Everest Region Trekking porters, guides, trekking helpers, hotel helpers, hotel cooks etc.
Zatrwa La Pass and Hurhure Pass
Altitude elevation of Zatrwa La Pass is 4600 meter. From here you will also get to see lovely views of Numbur Himal, Kusum Kanguru, Mt. Cho oyu, and Kongde Peak. The trail goes through pine forests of rhododendron and later trek on the off-the-beaten trail. During Zatrwa La Trek day, you will get to see wonderful views of Mera North, Mera Central, and Mera South. As well as altitude elevation of Hurhure pass is 4400 meter which is beneficial to acclimatization before Climb Mera Peak. From here you will get to see valley of East Lower Solukhumbu and some mountains.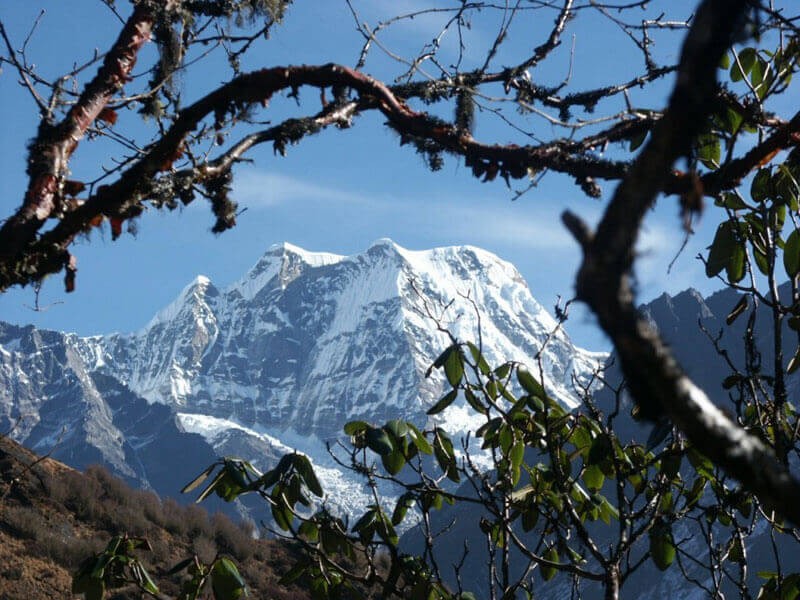 Prayer Flag and Mani Walls
Tibetan prayer flag is a colorful rectangular cloth, often found strung along trails of Mera Peak Circuit and high in the Himalayas. They are used to bless the surrounding countryside and for other purposes. Traditional prayer flags include woodblock-printed text and images.
Mani Walls stone structures are a compilation intricately carved stone tablets, most with the inscription "Om Mani Padme Hum" which loosely translates to "Hail to the jewel in the Lotus". They are built of rubble and sand and faced with mani stones engraved in the elegant Tibetan script. Travelers are fascinated by its beauty.
Mountain Flight – Lukla
During Mera Peak Trek you need to take flight from / to Tenzing-Hillary Airport, Lukla which is like mountain flight. During flight out of the window the scenery is dramatic. A huge white snow mountains hung on the skyline miles above. They are so high can't even be sure which ones are Mountain and which are clouds. Even the green forested lower foothills raise high above them. Tenzing Hillary Airport is one of the most dangerous airports in the world but here is qualified and experienced pilot. Most people think the scary thing about Lukla Airport is length of the runway. But it is also part of the adventure.
During drive from Kathmandu to Lower Solukhumbu you will reach at Patale Dhap. From here you will get see view of Mount Everest and other mountains of Everest range. Then continue drive and start trek to Mera Peak Circuit.