How Hard is the Climb to Mera Peak ?
Mera Peak (6,476m) is one of the highest climbing peaks in Nepal. It is a great introduction to high altitude climbs and a practice climb before going for the mountain expeditions. Climbing Mera peak is not as difficult as other mountain expeditions. Yet, there are several issues which make the climb difficult at some point.
As it is located in high altitudes, hence, it makes the climb difficult. If you haven't been close to the mountains or haven't done any prior trek then it will be very difficult for you to complete this trek. But if you have done trek up to Thorang La Pass or Kalapathar, then it will be easier for you to do this climb.
During Mera peak climbing you walk to the higher altitudes so you have high chances of getting altitude sickness. And the snowy surrounding may make your climbing a bit difficult. But, with proper preparation and climbing skills, proper climbing gears, experienced guide and physically fit body you can ascent this peak successfully.
How Hard is the Climb to Mera Peak ?
Mera peak climbing is a practice ground for real mountaineering expeditions. Many trekkers chose this peak before attempting to climb the mountains above 8,000 meter. Mera peak climbing is the strenuous trek in the foothills of giant mountains like Everest, Lobuche, Cho Oyu and so on. This climb is easier than other peaks. Yet, many things during your trek and climbing cause difficulties. Since you will be at high altitudes, there is a high chance of getting sick, or get injuries during the trek or you may have to wait for few more days to climb the summit due to bad weather. The weather condition at Mera peak is unpredictable. You will never know when the sunny morning will bring the dark clouds with thunderstorms. For these unpredictable weather conditions, you must stand strong emotionally and develop endurance power.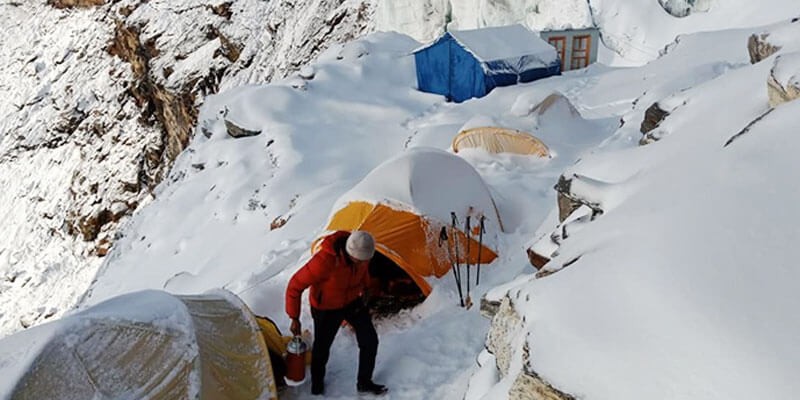 The journey to Mera peak is somehow includes the trek and a climb. For most part of the journey, it involves the regular type of trek and at the final to push at the summit, it becomes a climb. The Mera peak is a physically demanding climb though it is straight-forward climb. You have to walk through glaciers, snow-land and so on.
Some of the main factors that determine the difficulty level of your Mera peak climbing are as under:
Duration of your trip
The route you chose
The distance you walk through the whole journey
Weather conditions
Physical fitness
Breathing techniques you follow
Altitude sickness
Basic mountaineering training
Choosing of guide
Acclimatization time you prefer
Proper foods and personal hygiene
All of these factors play a vital role to determine the difficulty level of your climb to Mera peak. Once you are concerned about all these factors you can self determine the difficulty of this trek or climb to Mera peak.
How Hard is the Climb to Mera Peak ?
Hence, the difficulty to climb mera peak depends upon the trail you chose and the itinerary you follow. The shorter is your trip, the lesser chance to reach the summit. But, if you give enough time to adjust your body at high altitudes, the more chances to ascent the summit without facing any difficulty. So, we suggest you to have enough time for the trip.
As we all know, "Slow and steady wins the race". This rule is applicable while climbing the Mera peak. If you chose to walk slow and maintain your pace, then there is high chance of getting accomplished. But, if you rush to climb, there will be high chances of getting altitude sickness which automatically fails to reach the summit.
While climbing this Mera peak, you have to hike through glaciers, boulders, crevasses, walk beneath the icicles and mount the snowy summit. The duration of this climb as well as topographical condition is quite challenging for this trek. So we recommend you to practice walking in the difficult terrain before you decide to climb Mera peak.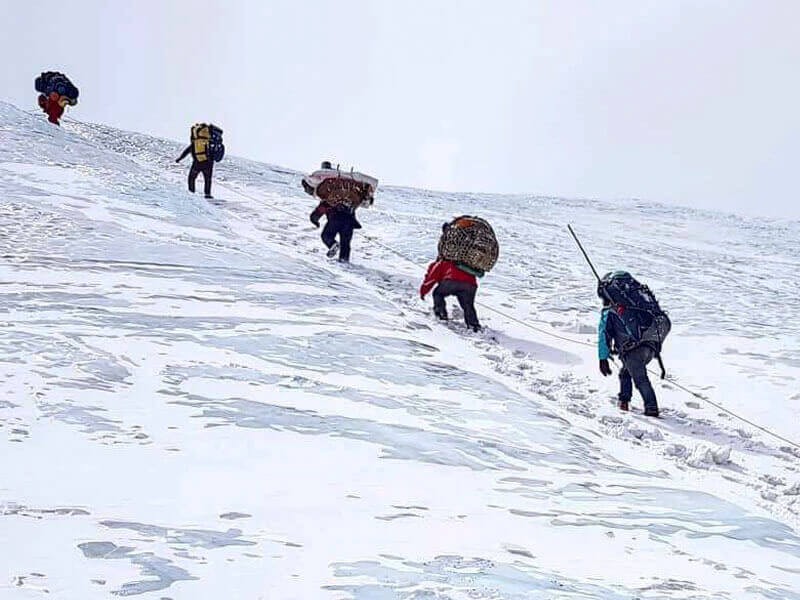 How Hard is the Climb to Mera Peak ?
Since, it lies at high altitude the weather condition of this peak is unpredictable. If you are at lower altitude, there will plenty of chances to get services and keep yourself alive. Whereas, if you are at high altitude or at camps there will less facilities and have to adjust at extreme weather and may have to face harder times. So, to prevent from such mishaps you must carry your proper gears.
So, we recommend you to climb this peak at peak season i.e. Autumn and Spring. During this time the weather will be much stable and sky will be clear and can witness mesmerizing views of the mountains.
Mera peak holds three different summits so with that reason the range of difficulty are also in different scales. On behalf of comparison, the central peak is the easiest one and one can climb this peak with little physical stamina and no need of prior climbing experiences. Likewise, Mera South is moderate in difficulty so it demands a little trekking experience whereas Mera North is the toughest one. So, in order to attempt this peak one must have good climbing skills. Due to the easiest route for the central peak most of the climbers attempt this peak in order to fulfill their dreams.