Corporate Social Responsibility (CSR) – Making A Difference
Keep Clean The Environment, Save The Himalaya Nature.
Keep Clean The Environment, Save The Himalaya Nature is a cleaning program run by Mera Alpine Treks. Mera Peak draws a lot of attention from the tourists around the globe. Due to the massive inflow of tourists, this area is facing various problems related to the environment. We, the team of Mera Alpine Treks are trying our best to tackle these problems and keep the environment clean. Timely garbage collection from the area will ensure that the tourists enjoy their trip in the clean environment. Every end of the season, we, Refuge Mera Lodge organize cleaning program of Mera Peak Base Camp and Mera Peak High Camp. The garbage collected from the high camp and from the surrounding areas is disposed of in an environmentally friendly manner.
Actively promoting to increase tourist flow in Mera region and Visit Nepal 2020
We, Mera Alpine Treks promote different trips to increase tourist flow of Nepal. We also provide Nepal trip package services as per the requirement of an individual. We are promoting our Nepal trips through different social media by using photos, videos, and information. We are actively involved from our side to promote and make 'Visit Nepal 2020' a successful campaign that is lead by the government of Nepal.
We have made a promotional video of Mera Peak Trek, which is in Youtube.com & Facebook.com. We provide all the required information about the tour, trekking, peak climbing, and expedition for all individual persons and trekking agency.
Reconstructed ruined trails of Mera region in 2018
We, Mera Alpine Treks is grateful to all the people who have volunteered in Mera Alpine Conservation Group on the auspicious occasion of our great Tihar Festival in 2018 to restore the ruined trekking trails.
Mera Alpine Conservation Group completed constructing trails between Thaktor & Kothe and between Kothe & Thangnak in Mera Region. We, Mera Alpine Treks has donated NRs. 32,715.00 in Autumn, 2018 for the reconstruction purpose.
Donation at Thangnak Gompa in 2017 – 2018
Thangnak Gompa is also known as Dukffuk Monastery, located in Mahakulung Municipality – 1, near from Thangnak. We, Mera Alpine Treks donate total NRs. 1,55,600.00 for Dukffuk Monastery in 2018. It includes NRs. 85,000 equals specific things for Dukffuk Monastery like Meling Gyaling 1 Set, Ragdhung Plain Copper 1 Set, Kangling White Metal 1 set, Pipu 5 Set, Tibetan Buddhist Thangka, Kongbu, Fungba, Sleeping Bag, Kitchen Utensils, etc. As well as we also had given extra money NRs. 60,000 in the reconstruction of the monastery. Besides these, we also have given 40 Kg Buddhist Book (Yum) that cost transportation charge from Kathmandu to Thangnak Gompa NRs 10,600.
Donation at Khiraule Gompa in 2015 - 2016
Khiraule Gompa is established in 1738 AD. Located at Mahakulung Municipality -1, Khiraule village. We, Mera Alpine Treks donated kitchen utensils ( Steel plates, soup bowl, spoon, containers (Dekchi), ladle, nanglo, cooker, hot water bottles, etc) to Khiraule Monastery for around 150 people in 2016. The total cost was NRs 1,03,000.00 for all the utensils. We also have planned to provide more kitchen utensils to them in future if they need.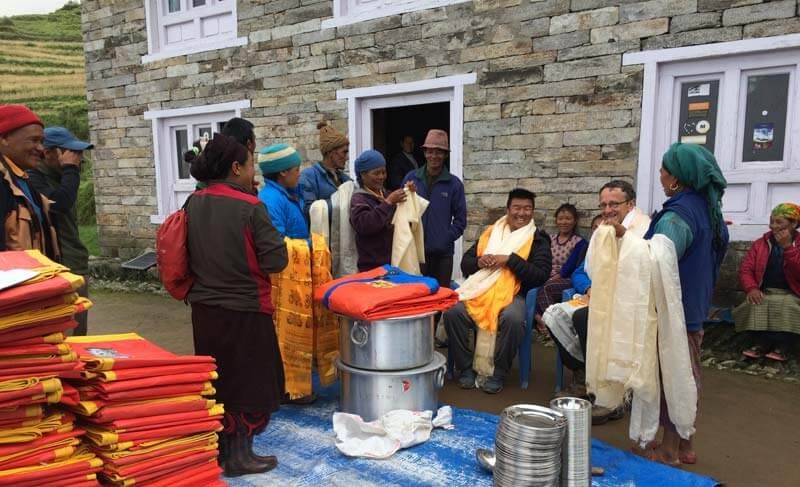 Helped to Earthquake Victims in 2015
We, Mera Alpine Treks distribute NRs. 8,48,000.00 equals Tripal (Tapling) for Earthquake victims at Khiraule Village for 85 families whereas in Kothe, and Thangnak village for 21 families in 2015.
Donation to Mera Alpine Conservation Group and Mahakulung Rural Municipality
We, Mera Alpine Treks has donated total NRs 65,000.00 equals sound system in 2017. It includes NRs 38,000.00 equals one speaker for Mera Alpine Conservation Group at Mera Region and NRs. 27,000.00 equals one speaker for Mahakulung Municipality to use during great Chakchakur festivals of Kirat.
Increase Local Employment
Mera Alpine Treks provides employment for local people in the tourism field and work for Local benefits. We, Mera Alpine Treks provide job in a different post like Operational Manager, Operational Controller, Accountant, Mountain Guide, Climbing Sherpa Guide, Trekking Cook, Lodge Cook, Camping Porter, Assistant staff, etc as per the qualification and experience of an individual. We, Mera Alpine Treks help local people to take Trekking Guide Training, Mountain Climbing Sherpa Guide training as well as cooking training. We, Refuge Mera Lodge help and motivate local people to get tourism field training and work experience.