Mera peak climbing is quite a popular adventure in Nepal. The non-technical ascent and straight-forward route to its summit make it easy for those who want to conquer and quest for their first mountain climbing in Nepal. Mera Peak (6,476m) is the highest trekking peak of Nepal. Mera peak climb is ideal for novice as well as experienced climbers. The trail of this peak will allow you to explore the lower Solukhumbu region. Trekking on the Mera Peak will be comparatively challenging than any other peak climbing due to it elevation height.
If you are planning to go on this trek, then you have to remember these things for the successful climb Mera Peak. Here are some tips and information that you should not avoid before Mera Peak Climbing :-
Prepare for Physical Fitness and Health
To climb the summit you need to have a good physical condition. Physical training for a month prior to your trek can benefit you significantly for the high altitude trek. Mera peak climbing is considered as strenuous as per difficulty which means you have to walk through glaciers, snow and ice at sub-zero temperature for about 4-7 hours each day and about 8-10 hours on your summit day. So, you must think twice before attempting this climb. And as far as physical training is concerned, we advise you to do aerobic activities like running, swimming and cycling. You can also carry a small backpack and walk around your house for a few hours each day.
We recommend you to maintain your health to climb the Mera peak successfully. Do not forget to bring your personal medical kit regarding your health that you may need while on the trek. Though it is straight-forward walking up the mountain, it demands physical and mental fitness. We Mera Alpine Treks provide first aid medical kit in free of cost.
Choose Best Time to Summit Mera Peak
Choosing the best time to climb Mera Peak is very essential in order to attempt rewardingly. So, it depends on you to choose the right time and make a decision. We recommend you to climb Mera Peak in autumn season and spring season. During this time the skies are clear and will be high chances to get to the summit. Between September, October and November or between March, April and May is perfect time for Summit Mera Peak Climb. These times mean long periods of stable weather. No matter what time you choose to climb the weather at the top is still very cold, yet bearable.
and Summer Season is also good for Mera Peak Trekking. At that time, definitely you will reach at Mera Base Camp or Mera High Camp. But less chance to reach top of Mera Peak Summit because of very cold temperature and snowing with windy.
Make Best Itinerary with acclimatization and reserve day
Making the right itinerary planning for your trek is most important. You should have enough time for acclimatization and rest too. The rush you do to climb the peak, the higher the chances to get failed. The slower pace you do the more chance to reach the summit without facing any difficulties. You have to make sure that you have made enough acclimatization throughout the trek before climbing the Mera Peak.
So, we recommend you should have rest day at Khare for acclimatization to climb Mera Peak successfully. And at least one day additional day for Mera base camp or reserve day for summit Mera Peak. By doing this your body will get time to acclimatize at Mera Peak. It gives enough time to explore as well as proper acclimatization for your body. More importantly, this will take you to the high altitudes gradually so it is beneficial. Click here for Mera Peak Climbing Itinerary and Mera Peak Circuit Itinerary.
Have proper Mera Peak Climbing Gear
You must be alert while packing the gears for Mera Peak Climb. Choosing the proper clothing is a must in order to survive at cold weather and to keep you warm. In the context of climbs, you must be serious about it. Quality as well as the comfort clothing is the basic necessity.
Along with the trekking essentials you also need to have some professional climbing gears to go on this trek. Likewise, you have option to hire these gears at Khare as well as in the city. Below is the list of personal gears that you should not avoid while climbing the Mera Peak:
Dynamic Climbing Rope
Snow Bar and Ice Crew
Mera Peak Climbing Map
Tent and Camping Equipment
1 Pair Climbing boot
1 Pair Crampons
1 Ice Axe
1 Climbing Harness
1 Ascending device Jammer
1 Descending device Figure 8
3 Screw Karabiners
2 Non Screw Karabiners
Tap Sling / Prusik Rope
1 Climbing helmet
We Mera Alpine Treks provide all Mera Peak Climbing Gear for our clients in free of cost.
Get Basic Climbing Training at Khare or Mera Base Camp
One of the most important elements of your preparation will be mountaineering skills. Mera Peak is the highest trekking peak of Nepal. We recommend you to take specific training at Khare or Mera Base Camp before climb Mera Peak. With proper training, you will surely get a unique trekking adventure. You will be trekking for most parts of the trails. But above 5000 meter requires climbing through rock, snow, and ice. This part of the trek may require the use of basic mountaineering tools. We Mera Alpine Treks will provide you a required training with a professional climbing guide which will automatically benefit your climb. You do not have to be professional at climbing but you can possess some climbing skills.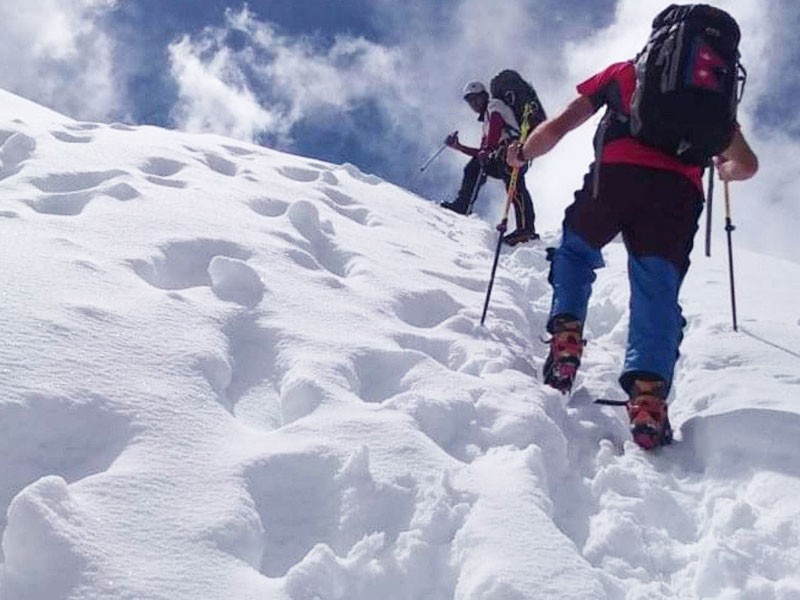 Summit Mera Peak with Qualified Climbing Guide
Another important part of climbing is choosing the experienced guide who will make your climb more accessible and comfortable. So, they can help you tackle the difficult part of the climb with more ease with proper guidance. We recommend you to strictly choose an experienced and professional guide in order to climb successfully. We, Mera Alpine Treks family have such guides who can guarantee your successful ascent to the summit Mera Peak.
Basic knowledge about High Altitude Sickness and Frost Bite
Another most important aspect of climbing is having a basic knowledge about high altitude sickness and frost bite. You should be aware about the symptoms and signs of altitude sickness so you can tackle the difficulties. For this you can either consult with your doctor or can get information from the experienced climbers. As we all know, prevention is better than cure. We Mera Alpine Treks provide High Altitude Sickness Advice.
Others, Last but not the least; you need to remember following thing also before Mera Peak Climbing:
Your Travel Insurance
Mera Peak Climbing Permit
Makalu Barun National Park Entry Permit
Get advice with us or from the professional
Mera Peak Climbing Information